November 4, 2007, 11:34 am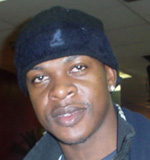 Where did you get the name Mr. Vegas? Well Mr. Vegas was given to me by a cousin of mine in Jamaica, he just say mi look like somebody who love gamble.
Are you working on a new album? Yeah, it's going to be out in march on delicious vinyl / interscope
What are you going to call the album? I am going to call it "pull up";
How many albums do you have to date? Two legal ones, on greensleeves record, this is going to be my third album
Are you collaborating with anybody on the album? I just did something with foxy brown, my bwoy lexxus is going to be on there, Beenie man is going to be on there, it's going to be all good.
Anybody you hope to collaborate with that you haven't yet? Sky is the limit you know, who so ever come along, because I just believe as long as somebody is talented, I'll just work with anybody still
Do you prefer singing or djing? Singing, I love singing to the ladies and watching them getting all excited. That's the greatest part of my life when I can really sing. If I sing and I don't make money I feel better than djing and making money
Why? Cause singing does so much more for my soul, it does touch my heart yuh nuh, it just puts me into a different mood, a different vibe. It just makes me feel certain emotions, djing now is just to get the people jumping all over the place and let them have a good time. When I sing I try to reach people soul, and reach girls hearts, let girls fall in love yuh nuh. The song I got with Foxy brown is going to make a lot of girls fall in love, it's call "thank you girl, I think I am in love again".
What is your long-term goal? My long-term goal is to keep doing music, keep fans and people enjoying music, I just want to be a singer that's going to be around like Barrington Levy. That's my idol (Barrington Levy).
How has the success of Dancehall affected you as an artist? It hasn't really affected me still, it just open more doors for dancehall music compare to when they were trying to get in, when we had "heads high", and "hot gal today" and all them songs trying to get in, but now its like easier. If flip the script and put "heads high" back out and all them tracks, it would be crazy right now. Dancehall is big now anything can play on the radio right now, compare to when we had songs that people say couldn't play on the radio because it was too hardcore.
I was reading an article about the gay community protesting bounty killer show in London, how do you feel about the anti-gay lyrics? I can't tell anybody what to sing and what not to sing, I know what I sing about, I don't trouble topics that don't concern me.
What do you love about reggae music? You have different types of reggae music, you have reggae music like with Barrington levy, tenor saw and half pint, I am more down with that still, even through I do hardcore dancehall music , but I more get a vibe from those type of music. Like I can listen to tensor saw " when the roll is call up yo nder"; and it put me in a vibe, it put me inna weed vibe.
No photos have been added to this gallery.