November 4, 2007, 4:48 pm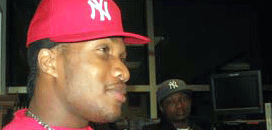 Assassin got his lethal stage name from musical clashes he encountered with friends while in school. He would literally "assassinate" the competition; as a result, the moniker was adopted. Born and raised in Papine, 20 year-old Jeffrey Campbell started deejaying at around age 4. When asked who saw the potential in him, his first response is his brother, Garrett, also known as G-Code. His family was a big factor in the former Camperdown student's decision to pursue music.
Listen to The Interview With Assassin
No photos have been added to this gallery.