May 14, 2008, 12:36 pm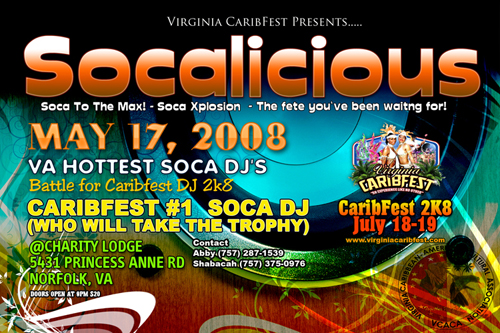 This saturday (17th May 08) Black Starliner (Carlita & Seko, yep the same two from Virginiaeggae. com) will topple the top Soca DJ's in Virginia.
We will be coming out to have major fun musically.
We are coming ot to mingle with the soca loving people.
We are coming out to support the Carnival and the people who do so much to make it work.
We hope that you can come out and raise a flag fi we.
Even if you have never been to a soca event i assure you after it's over you will have a rare experience under ya belt.
Give it a try!
This is one for the Soca/ Calypso & reggae fans!
This one is for you if you can find some way to make this night a nite of some real fun. The best dj's will win but dem soca sound betta not mek di roots sound win..... hay heyyyyyyyy... lol lol lol lol.
We love we people so we get involved!