January 29, 2010, 8:15 am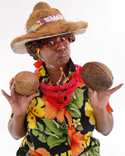 The Coconut Lady has made an appearance infront of the American Idol judges, we are fortunate to have her co-host the 2010 Virginia Reggae awards. The Coconut Lady is a celebrity unlike any you have ever met. This witty comedienne will certainly bring some laughter to this already much anticipated event. The Virginia Reggae awards ceremony will be held @ the Jewish Mother in Va. Beach.

The 2010 Virginia Reggae Awards will for the first time, have a male co-host. Devon " Sean Linja" Henry, founder of Love People sound will be doing the honors this time around. Sean Linja is no stranger to the Virginia Reggae scene, he is one of the dancehall sound pioneers in Virginia. Linja holds the honor of being the first man to host the VRA'.