September 14, 2008, 9:09 am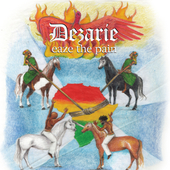 Listening to radio or depending on sound systems seem to always fail to keep you up to date with good music. You probably have already missed out on an exceptional reggae artist, hailing from St. Croix, U.S.V.I. Her name is Dezarie.
Dezarie has released only three albums to date. In 2001 she released Fya which was followed by Gracious Mama Africa in 2003 and this summer (2008) she released, Ease the pain. With these three albums Dezarie has certainly earned the title of "Queen of Roots Reggae music." Her songs are timeless, socially conscious, educational and revolutionary.
You can pop a Dezarie cd in your music player and never worry about the lyrics having a negative effect on anyone around you! There are no fillers, no profanities, no sexual innuendo's, no call to murder innocence or any of the usual things required to create a hit! Dezarie's vibration is unlike any other artist you may encounter. Her stage shows are not to be missed (we drove 8 hours to see her perform, and that was on a weekday). Give her a listen and HEAR for yourself. You may agree with us!
Or Buy Her album http://www.dezarie.com/