March 7, 2008, 9:05 am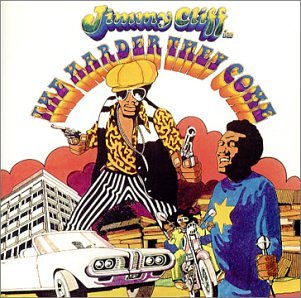 As the stage version of 'The Harder They Come' opens, Andrew Perry celebrates the soundtrack that brought Jamaican music to a vast new audience
Tonight, after two sell-out runs at London's Theatre Royal Stratford East, the stage musical of the classic movie The Harder They Come begins a month-long residency at the Barbican, before heading to Birmingham
a scene from the stage version of The Harder They Come Chain reaction: a scene from the stage version of The Harder They Come
The arrival of this production at one of London's most distinguished arts centres mirrors the trajectory of reggae itself, rising from the mean streets of Kingston to a state of high esteem and worldwide popularity.
The original 1972 film, which starred Jimmy Cliff as a young singer hustling in poverty-stricken Jamaica, illuminated the harsh conditions in the ghettos of Kingston, where many of the inhabitants sought to earn a crust through the city's vibrant music culture.
The immortal songs in the movie, such as Cliff's street-tough title track, are ripe for use in a musical. They are embedded in the British psyche, every bit as much as the songs of Abba, Madness and Queen, which have all already been used in hit stage musicals.
For many years, the soundtrack album was comfortably the biggest-selling reggae album ever, until 1984's posthumous Bob Marley compilation Legend finally toppled it from that position.
Many Jamaican immigrants in Britain at the time remember the release of The Harder They Come as the moment "their" music finally started to be taken seriously. Throughout the 1960s, Jamaica had been churning out fantastic ska and rocksteady records, but the only ones to hit the British charts were novelty tunes, such as Max Romeo's Wet Dream. Reggae was accordingly seen as rather silly - not proper music.
By the early 1970s, the island's prevailing sound had coalesced into the shuffling, spacious, bassline-propelled form which became known as reggae. It was The Harder They Come which really introduced the new idiom to a global audience.
"The movie opened it up for all Jamaican music, and for me personally," Jimmy Cliff told me, when I met him a few years ago. "People finally saw where the music was coming from. It was all there - visual and audio, too."
Initially, Cliff was approached to write some songs for the soundtrack. Clean-cut and professional by Jamaica's notoriously lax standards, Cliff's heavenly, high-pitched voice marked him out as a kind of reggae Curtis Mayfield. Jamaican music had always drawn inspiration from American R&B. Its sound mixed social themes, vocal harmonies and sublime melodies directly influenced by soul.
Casting Cliff in the movie's lead role, as a singer, forced into lawlessness in his quest for stardom, gave him the extra "edge", to appeal to rock audiences weaned on self-styled outlaws such as Keith Richards.
As can be seen on the cover of the soundtrack album, the film was pitched as offshore blaxploitation, with big guns, superfly threads and Rastas on motorbikes. But as Cliff suggested, the movie and its music in tandem provided a pretty realistic snapshot of the street crime that had escalated in Kingston's ghettoes after British colonial rule ended in 1961.
In the title track, Cliff sings of getting ahead by any means necessary, voicing the same ideas of hoodlum autonomy as the pistol-toting "rude boys" running wild in Trenchtown. Other songs on the soundtrack, such as The Slickers' Johnny Too Bad, and Desmond Dekker's 007 (Shanty Town), sent out desperate emergency signals about the spiralling gangsterism.
These lurid lyrics, however, not to mention the fabulously exotic rhythms surrounding them, proved irresistible to British audiences in the ensuing years.
I remember standing around a campfire with the Clash's Joe Strummer, at Glastonbury in the late 1990s. On his way there, Strummer had bought a budget-price cassette of The Harder They Come at a motorway service station, and was blasting it out over his sound system. He told me he had mislaid his old vinyl copy years beforehand, but hearing the album now - and I may be paraphrasing here; this was Glastonbury, after all - he said, felt like being reunited with beloved old friends.
For Strummer's pal, Don Letts, a second-generation Jamaican in London, the soundtrack of The Harder They Come was like a series of "postcards from cousins or relatives, telling you what was going on back home".
For today's listeners, those songs are simply brilliant pop music, quivering with attitude, excitement and stonking tunes, whose potency only grows with age. When David Cameron used Cliff's You Can Get It If You Really Want as the anthem for his campaign to restore trust in politics, he was plugging into a cultural phenomenon of the very broadest appeal, transcending all class, race and gender boundaries.
So, theatre-goers rolling up for the Theatre Royal Stratford East and UK Arts production of The Harder They Come at the Barbican can be guaranteed one thing: tunes from the very top drawer.