January 30, 2015, 11:35 am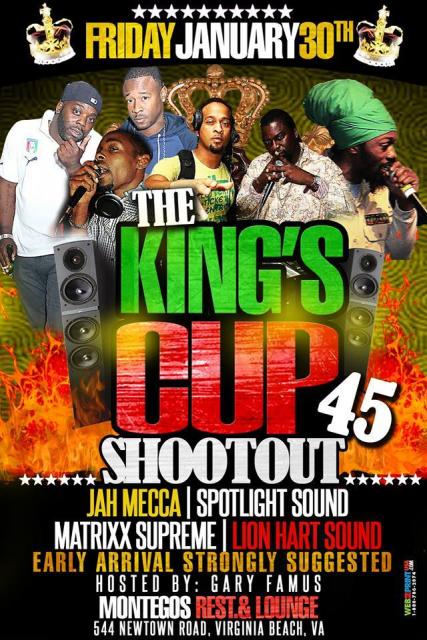 Tonight some sounds are going to be buried under a barrage of music and only one will rise to the top to claim the Kings Cup. Get ready to lend your voice in support of your favorite sound in tonight's 45 shootout at Montego's.
There are four challengers battling for the Kings Cup. The contenders are Lion Heart from Virginia Beach, Matrixx Supreme from DC, Soul Shot from Richmond, Jah Mecca from Richmond and Spotlight from Richmond. We have seen some of these sounds clash in the past, so tonight's clash shall be filled with big tunes, creative talk and other antics.
If you have never been to a 45 shootout, tonight is your chance to experience what happens when music meets wit in a dancehall setting.
The competition takes place tonight at Montego's Caribbean in Virginia Beach. Show time is approximately 10 pm so grab a whistle or a foghorn and we'll see you at the clash.
The rules for tonight are as follows:
3 rounds total and then tune for tune One team will be eliminated after 2nd round and another after the 3rd round.