March 7, 2008, 10:18 am
Virginia's Tuff Lion hard at work.
Tuff Lion Ten Strings Preview 1
Tuff Lion and St. Croix I Grade Records have completed an album of instrumental music. The album features Tuff Lion's spectacular guitar renderings set with classic riddims from the I Grade catalog. The album contains a few new riddims (co-produced by Zion High and Lustre Kings). The album is entitled "Ten Strings" and will be out in early May.
Also released is Wadada a various artist album produced by Tuff Lion featuring tracks by Tuff Lion, Ras Attitude and a host of other talents.
Change by Sahra Indio is another roots classic album produced by Tuff Lion. Sahra Indio hails from Hawaii.
West Indian times
West Indian times magazine will no longer be printed. January's issue of the magazine was the last edition! West Indian times magazine is a major loss to the Virginia reggae and Caribbean communities!
Ancient King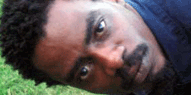 Ancient King releases his sophomore album entitled Judgement! The album was done with Mystic Vision.