May 26, 2015, 8:12 am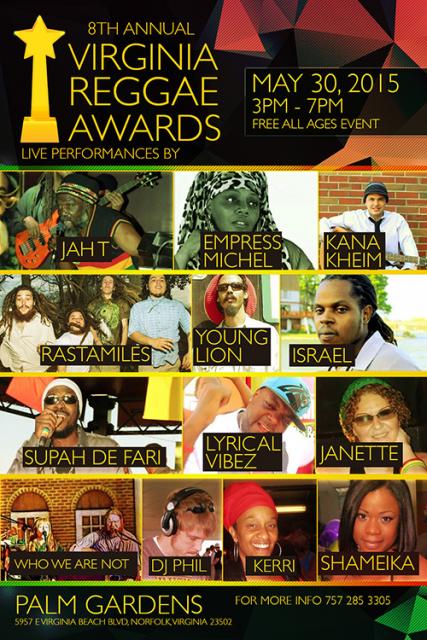 You are sure to see some powerful, enlightening and dynamic performances at the Annual Virginia Reggae Awards, just as we have seen in the past.
This is the 8th staging of the Virginia Reggae Awards. There will be performances from Veterans and new faces to the Virginia Reggae scene. Awards will be presented to the winner in ten different categories.
The award ceremony will be held at the prestigious Palm Gardens in Norfolk Va. This is an all age family friendly FREE event. Your support fosters growth of the Virginia Reggae community.
The event starts promptly at 3pm with awards presentations and live performances. This years hosts are Sis Kerri Thurman and Shameika. See you at the 8th Annual Virginia Reggae Awards.
Artist Performance times
3:05 Lyrical Vibez
3:25 Jah'Nette
3:45 Supah Defari
4:00 Young Lion
4:30 Rasatamiles
5:00 Kana Kheim
5:25 Jah T
6:00 Israel
6:15 Who We Are Not
6:45 Empress Michel

Awards presented @ The following times
3:20 - Media Award.(Alt Daily/GTFL Radio/ Joseph Kelly)
3:40 - Favorite song Award The Reef, Day To Day/ Session Rockers, Red Gold & Green)
3:55 - Promoter Award (Big Mill prod/Buckroe Beach Reggae fest/Lion Heart promo))
4:25 - Sound System/Dj Award. (Black Money/ DJ.Sniper/Love People)
4:55 - Favorite Artist Award.(Akshan/ Mighty Joshua/ The Ambassador)
5:15 - Favorite AlbuM. (Dub City Renegades, Island Rock/ Session Rockers, Lion Within/ The Reef, College Park)
5:15 - New Artist.(The Reckless Band/ CLAW/ Adwela & The Uprising)
5:55 - Producers Award (S.Wonder,Corporate Greed/Stable Roots, Days like this/Joe Talley Lion Within)
6:10 - Favorite Band Award.(Machet/FeelFree/Rastamiles)
6:40 - Ambassador Award. (Brian Jahboo Boozer/ Mighty Joshua/ Vincent Biggs James)