May 16, 2013, 7:45 am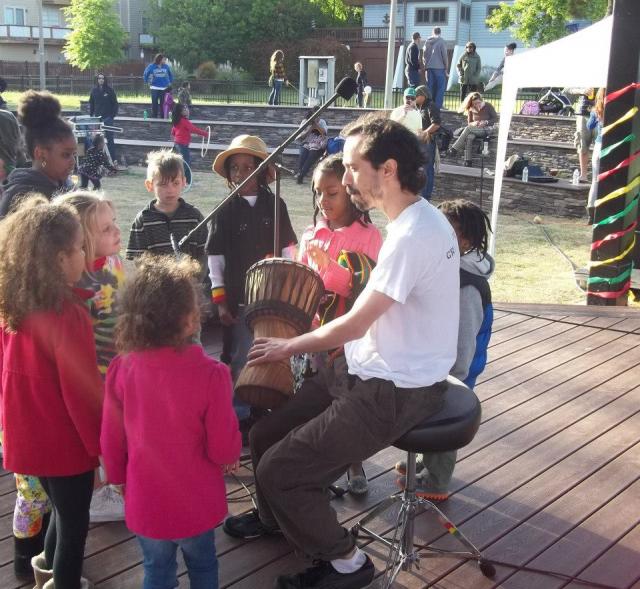 The 6th annual VA Reggae Awards were held at Mill Point Park in Hampton, VA, on May 4, 2013. The all day event was a family friendly event that offered good vybez for all that attended. From the live reggae artists who performed on stage with a waterfront backdrop, to the vendors and Caribbean food, as well as the kid's activities including finger-painting and a jump house, the free event offered opportunity for enjoyment for all ages.
Hosts (Kerri, Monique, Cree and George) and Deejays (Coolie G and Philosophe) prepared the crowd for the days many activities and kept the energy flowing as the awards were presented and bands and artists excited the crowd of more than 400.
This years event brought forward not only some of VA's hottest seasoned bands and artists that have performed at the awards in previous years, like EVER-G, Ton A Hope and United Souls Band but to some newcomers to the event such as Machet from D.C, Emmanuel Wilson from Senegal,now residing in Richmond and Rasta Miles out of Suffolk. In total, 26 bands and artists were scheduled to entertain this year and though weather was seemingly conflictual with bright skies and brisk winds, the artists brought a sweet sound to the air that made unseasonable weather much more pleasant.
The 6th Annual Awards as expected, was a day of happiness for all, with family like reunions amongst the attendees and flawless performances from some of VA's hottest talent.
The community has an opportunity to nominate and then vote for their favorites leading up to the day of the event. The event is an opportunity to recognize so many that work tirelessly on the Reggae Scene throughout Virginia.
And the winners are:
Promoters Award: Hype Zone Management
Producers Award: Stable Roots for Motherless Child
Sound System Award: DJ Sniper
Favorite Song Award: Meagan Simone for Fire
Favorite Album Award: Ton A Hope for Judge Not
Favorite Band Award: Dub City Renegades
Media Award: Kyle Bloom
New Artist Award: Saggi Earthtones
Favorite Artist Award: EVER-G
VA. Reggae Ambassador: Vincent "Biggs" James
** Your votes count
Virginia Reggae would like to thank the sponsors and all those that continuously support Virginia Reggae, the VA Reggae Awards and its relentless efforts to bring forward all the greatness that Virginia has to offer. Please continue to look out for calendar events, news and updates and please continue to support Virginia Reggae and all the good works!
"A single stick may smoke, but it will not burn."
~ African proverb
Pure Love and Guidance, Cree~